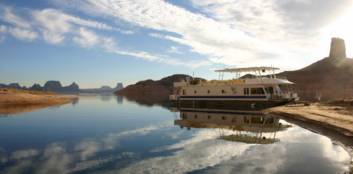 Experience Lake Powell
Houseboating on Lake Powell is an experience unlike any you have had before. Find out what makes it so special...
Select your Houseboat
Lake Powell has a diverse fleet of houseboats from economy class to high-end luxury. Select the option that is right for you...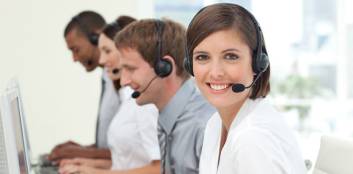 Talk with an Expert
Let the knowledgeable experts at HouseboatReservations.com help you to plan your perfect houseboat vacation...

Zebra Mussel Policies for Lake Powell
Zebra and Quagga Mussels first appeared in the United States in the 1980s. The mussels were initially brought to the United States through the ballast water of ships entering the Great Lakes. These aquatic invaders soon spread to many bodies of water in the Eastern United States and have even made their way to the western United States. Currently, Zebra mussels have been detected in several reservoirs along the Colorado River system such as Lakes Mead, Mojave, and Havasu. Arizona, California, Nebraska, Kansas, Colorado, Nevada and Utah have all confirmed the presence of larval Zebra mussels in lakes and reservoirs. Zebra and Quagga mussels can be destructive to an ecosystem due to competition for resources with native species. The filtration of zooplankton by the mussels can negatively impact the feeding for some species of fish. Zebra and quagga mussels can attach to hard surfaces and build layers on underwater structures. The mussels are known to clog pipes including those in hydroelectric power systems, thus becoming a costly and time -consuming problem for water managers in the West. Control policies have recently been introduced to alleviate the hydroelectric problems as well as ecological problems faced by Western infestation. Beginning in 1999 Lake Powell began to visually monitor for the mussels. In 2001 hot water boat decontamination sites were established at Wahweap, Bullfrog, and Halls Crossing marinas. In January 2007, zebra mussels were detected in Lake Mead and new action plans were announced to prevent the spread of mussels to Lake Powell. However, in August 2007 zebra or quagga larvae were discovered in Lake Powell. Lake Powell introduced a mandatory boat inspection for each water- craft entering the reservoir beginning in June 2009. Effective June 29, 2009, every vessel entering Lake Powell must be inspected by trained personnel. These mandatory inspections will help to prevent vessels from transporting Zebra mussels into Lake Powell. While indefinitely preventing zebra mussels from entering Lake Powell will be difficult, prevention is key to avoiding serious and costly problems in the future. Nearly impossible to reverse infestations, prevention remains the main policy to protect Lake Powell. Recent government support from the American Recovery Act provided additional funding for further research regarding monitoring, control and ecological impacts of Zebra mussels.