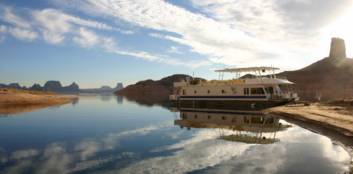 Experience Lake Powell
Houseboating on Lake Powell is an experience unlike any you have had before. Find out what makes it so special...
Select your Houseboat
Lake Powell has a diverse fleet of houseboats from economy class to high-end luxury. Select the option that is right for you...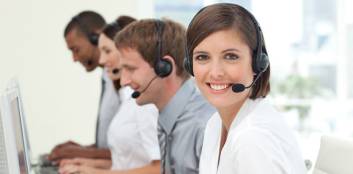 Talk with an Expert
Let the knowledgeable experts at HouseboatReservations.com help you to plan your perfect houseboat vacation...

Construction on Glen Canyon Dam
Construction on Glen Canyon Dam began with a demolition blast keyed by the push of a button by President Dwight D. Eisenhower at his desk in the Oval Office on October 1, 1956. The first blast started clearing tunnels for water diversion. On February 11, 1959, water was diverted through the tunnels so dam construction could begin. Later that year, the bridge was completed, allowing trucks to deliver equipment and materials for the dam, and also for the new town of Page, Arizona.
Concrete placement started around the clock on June 17, 1960. The last bucket of concrete was poured on September 13, 1963. Over 5 million cubic yards (4,000,000 m³) of concrete make up Glen Canyon Dam. The Dam is 710 feet (216 m) high, with the surface elevation of the water at full pool being approximately 3700 feet (1100 m). Construction of the Dam cost $155 million, and 18 lives were lost in the process. From 1963 to 1966, turbines and generators were installed for hydroelectricity. On September 22, 1966, Glen Canyon Dam was dedicated by Lady Bird Johnson.