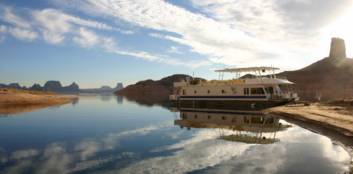 Experience Lake Powell
Houseboating on Lake Powell is an experience unlike any you have had before. Find out what makes it so special...
Select your Houseboat
Lake Powell has a diverse fleet of houseboats from economy class to high-end luxury. Select the option that is right for you...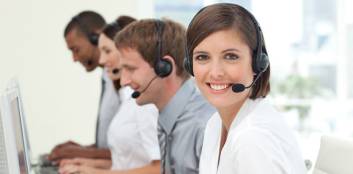 Talk with an Expert
Let the knowledgeable experts at HouseboatReservations.com help you to plan your perfect houseboat vacation...

Scenery at Lake Powell
Stunning red-rock scenery surrounds the lake. Rock canyons and towers provide excellent photography opportunities. One famous national monument is the Rainbow Bridge. At 290 feet tall and 270 feet wide, it is the largest natural bridge in the world! The Lake Powell region is home to the Glen Canyon National Recreation Area, which spans hundreds of miles and houses museums such the John Wesley Powell Museum. People can take guided tours, hike, play paintball, or mountain bike while visiting this area. Free tours of the Glen canyon dam are given throughout the week as well. There are also many archaeological sites to explore such as Indian ruins, ancient buildings, and rock art. The rock art at Defiance House in Forgotten Canyon draws crowds of people every year.